Can New Businesses Benefit From Using Cloud Hosting?
Cloud hosting is the best option for new websites or startups because it is quick, safe, and reliable. It's cheaper than dedicated hosting and offers the same speed and scalability benefits as shared hosting but at a fraction of the price.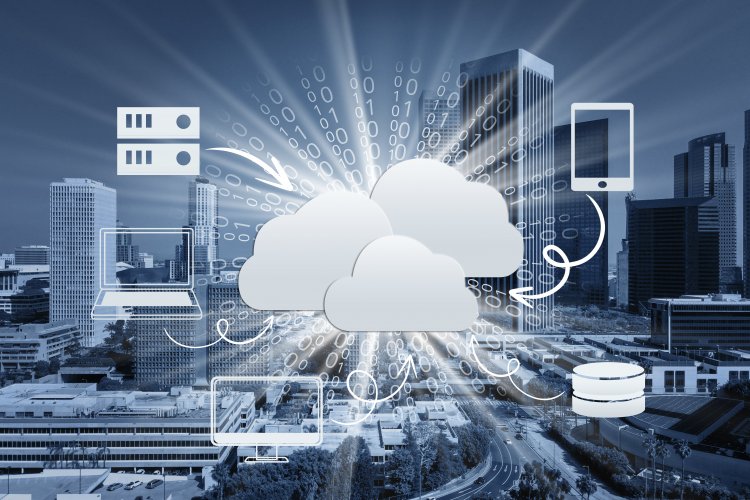 More and more companies are switching to cloud hosting since it provides them with both scalability and reliability. Shared Hosting has been the standard introduction to web hosting, but Berkaweb reports that this is quickly changing as more people switch to more flexible and feature-rich Cloud Hosting.
However, organizations can benefit greatly from the scalability, adaptability, and data security that cloud hosting provides.
Further evidence that Cloud Hosting is a viable choice for newcomers and small businesses will be presented today. First, though, let's learn more about this cutting-edge hosting platform.
To begin, let's define Cloud Hosting.
When a website is hosted in the "cloud," its data is distributed across several servers. What sets it apart Cloud Hosting from other website hosting options is this.
In conventional hosting, all of a website's files would be kept in one location. It's common practice for multiple websites to share a single server. It follows that a server is used to store the information for several different websites. In contrast, cloud hosting spreads a single website's data across numerous computers.
The advantages of Cloud Hosting, such as increased data security, data redundancy, and scalability, can be attributed to its fundamentally different architecture compared to more conventional kinds of hosting.
Why Cloud Hosting is Better for New Businesses?
Reliability
In the conventional hosting model, a website's data is stored in a single location. Your site would go down in the event of an issue with that server. Now that the server is down, the only method to get your website back online is to fix it, which will take some time.
A cloud-hosted website will have what is known as a "noncurrent live version" of the site stored on each server at all times. To put it another way, if one server goes down, another one will just load your website until the original one is back online.
A website's dependability is essential. Search engines like Google have made it very apparent that they will actively push down websites (in search results) that have poor uptime stats. This is important not only to your viewers but also to the search engines themselves. This is a major issue if your company is just getting started and your website is brand new.
Protection from hardware failure
Although cyber-attacks and cyber security are growing in importance, they are not the only causes of data loss. It's not just software issues that are a concern, but hardware problems as well.
The servers' hard drives operate nonstop. Also, a server's many hard drives are typically stacked one on top of the other, resulting in a great deal of constant vibration. As a result, deterioration occurs much faster. Since this is the case, hard drives will inevitably crash at some point.
Normally, this would result in the loss of data when using a conventional hosting service. If you have a solid backup plan, though, you can always restore the information. But that will take some time to do. That won't be an issue with Cloud Hosting.
The data is spread out among several servers. As a result, your website will continue to operate normally and no data will be lost in the event of a hardware failure of any kind.
Scalability
How simple or complicated it is to add or remove resources from an existing hosting plan is how scalable that form of hosting is. Low levels of website traffic are common for newly launched startup websites. However, eventually, your site's popularity will grow, necessitating the addition of more features so that it can serve a wider audience.
Due to a server's limited resources, traditional hosting models can have difficulty scaling. When numerous websites share a single server, this issue becomes quite pressing.
It shouldn't take more than a few minutes to increase or decrease your Cloud Hosting resources, provided you've purchased your plan from a reputable provider. Startups can benefit greatly from the flexibility of a Cloud Hosting plan because they will eventually need additional server space and bandwidth. This requirement will inevitably arise, and Cloud Hosting makes it simple to meet it.
Performance
A website's speed is a major aspect of its overall success. Numerous studies have demonstrated that poor loading times cause users to leave a website and prevent consumers from making purchases.
Site loading times are especially important for brand-new sites. When there aren't very many people around, each one becomes more precious.
Due to its design, cloud hosting is capable of providing both great performance and lightning-fast website loading times. Due to its setup, it offers faster speeds than many other types of traditional hosting. Look for a company that offers Cloud Hosting on SSD (Solid State Drive) servers if you need even faster speeds. This will result in a significantly quicker loading time for your website.
Easy management
Starting a business and learning the ins and outs of web hosting can be intimidating tasks. However, Cloud Hosting plans provide a user-friendly control panel that simplifies the process of administering both your hosting account and your website.
Most Linux Cloud Hosting providers provide cPanel, a user-friendly interface for managing websites, in their service. It's a lightweight app that packs a punch, letting you manage everything in one central location.
The cPanel community is very large, and its users and specialists are always prepared to lend a hand. That being said, there is a plethora of resources accessible to assist you if you do find yourself stuck. Furthermore, the software comes with a comprehensive help file that details how to use the program, answers frequently asked questions, and even provides video walkthroughs for some features.
Newcomers to hosting and website management can find a wealth of information and support in these forums and manuals. In addition, there is the option of using a Managed Cloud Hosting service, in which the hosting provider handles all server management, routine maintenance, upkeep, upgrades, etc.
Cloud hosting is the best option for new websites or startups because it is quick, safe, and reliable. It's cheaper than dedicated hosting and offers the same speed and scalability benefits as shared hosting but at a fraction of the price.
Cloud hosting's primary benefit to new businesses is the harmony it provides between affordability, performance, and features.
We propose Future18 Cloud Hosting Web solutions if you're the owner of a startup and you're having trouble deciding on a hosting provider. Our scalability is four times that of the competition, and our speed is twice as fast, cheap, and powered by AI Technology! We have a variety of Cloud Hosting plans to select from, get in touch with us at www.future18.com to discuss your startup's specific needs.
What's Your Reaction?