Top 5 Alternatives For Shopify To Start Your E-Commerce Site
I know you came to this blog because you were looking for sites like Shopify. So, I'll list my favorite alternatives to Shopify below. Just keep going!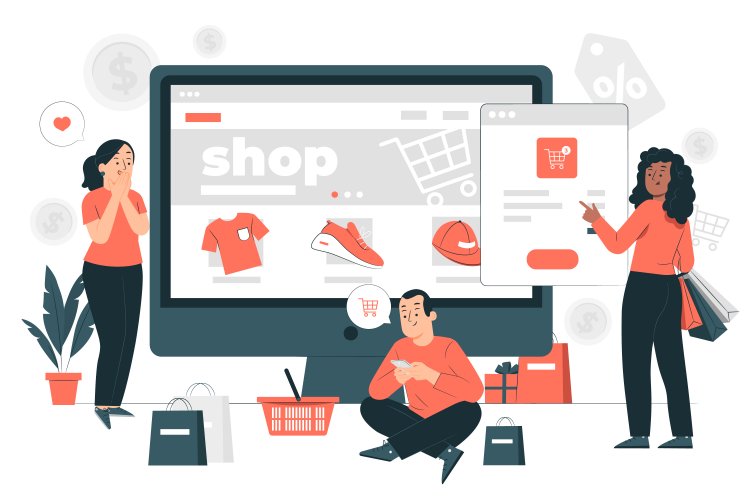 The rise of the eCommerce platform has become part of the new norm, which is why many traditional stores are moving their business online. So, store owners like WordPress, Shopify, and other content management systems to build their online business presence. Most of them, though, use Shopify to build their online stores. Because of this, it has more than 3,000,00 business websites.
But you should know that Shopify can cost you a bit more. But why not go with one of the free Shopify alternatives? Yes, there are free alternatives to Shopify or other options with similar features.
What's Shopify?
Shopify is a great place to start your online business because it is a powerful eCommerce platform. Shopify is a great platform for online retailers and merchants because it has some great features. One of these features is a POS (Point of Sale) app for making payments in different places. Let's say you're also a merchant who wants to show off a brand by giving customers a multi-channel experience. Sign up for Shopify, and you can make money.
Why Go with Shopify?
Shopify is great for people who don't know much about technology but want to build a scalable online platform. Get a variety of sleek templates and flexibility that make building a website and doing business online easy for people who aren't tech-savvy.
But that doesn't mean you shouldn't keep looking for a Shopify alternative. I've told you why keeping alternatives should be on your list of things to do.
Why Try to Find Websites Like Shopify?
1. Full control over SEO
Search Engine Optimization (SEO) is an important part of digital marketing that determines where a site ranks in search engines. After all, it affects how people find your e-store when they search on their own. But Shopify makes it hard to manage SEO activities because users can't access and change robot.txt files. Google uses these files to index your site and show it on Search Engine Results Pages.
2. Not willing to keep making payments to Shopify
Shopify Payment, which is powered by Stripe, is its own payment gateway. If you use this payment gateway, a fee of up to 2% of each sale will be taken out. This makes it impossible to do transactions in more than one currency, as well as many other important payment tasks. No matter what, online store owners must use the Shopify Payment gateway to let customers pay.
3. Problems with customization
When it comes to building an e-store in Shopify, people want website developers to do more work by hand. Web developers may have trouble with things like making storefronts and checkout pages and adding different customization features. So, think about how hard it might be for new Shopify users to build a site. So, they try to find something else besides Shopify.
You Need an Alternative to Shopify!
1. Magento
Magento is a well-known content management system with pricing that is similar to WooCommerce. So, I think it's a great alternative to Shopify for store owners because it has a large, well-established community around the world.
The content management software is free, but there are fees for hosting, themes, and plugins. Magento is the best open-source alternative to Shopify if you want to sell your products in an open-source environment. Do you want to know more advantages? It has responsive designs and cutting-edge technologies for eCommerce stores.
2. WooCommerce
WooCommerce I look for the best alternative to Shopify, which is used by more than 7.4% of all websites. WooCommerce is the best alternative to Shopify for people who use WordPress because it has a lot of plugins, themes, and other features that make it stand out. It works with WordPress, BigCommerce, and Shopify, which are all online store builders.
WooCommerce makes it easier for website owners to change things by giving them a lot of premium designs and themes to choose from. You can also improve the WooCommerce store experience by using CSS, HTML, and plugins. WooCommerce also lets you find an abandoned shopping cart.
3. Prestashop
If you don't have a lot of money but still want to build a good eCommerce store, Prestashop will help you do this. It's free, but you might have to pay for extras like hosting packages and a domain name. To meet the technical needs of shop owners, Prestashop has worked with Azure, WebHostingHub, and IONOS.
This alternative to Shopify works in more than 25 languages, doesn't charge extra fees for transactions and accepts payments from all over the world. If a beginner knows a little bit about web development, they can make a great eCommerce site.

4. Squarespace
Squarespace is one of the best alternatives to Shopify for small businesses, artists, and bloggers. It's great for eCommerce because it has a simple interface and features that make it easy to use. With just a few clicks, you can install this tool and start selling any number of products online. I wonder how much it costs. Their most basic plans for business start at $27 per month.
Do you think creatively and want to make changes that matter? Squarespace lets you be as creative as you want. You can start your e-store in minutes if you use social media tools and templates from any industry niche.
5. Wix
Web developers are talking a lot about Wix. I hope that most of you know about it. You can set up an online store in just a few minutes and let Wix's hosting services handle technical tasks like back-end management and data security. In the end, I think it's similar to WordPress because it also has a drag-and-drop builder tool.
When it comes to pricing, the Wix eCommerce Business VIP plan costs only $6.25 per month and comes with full payment security and priority customer service.
After reading about the different ways to use Shopify, you might be wondering which one is best. So, my answer is that you should look at your budget, needs, and priorities. But don't skimp on plugins, updated themes, a user-friendly interface, and how easy it is to use when you install these alternatives on your computer. Then, make a great online store and make as much money as you can from it.
What's Your Reaction?