How To Grow Your eCommerce Business Using Facebook Ads
Facebook is excellent at facilitating business-to-consumer interactions. Facebook's many features and the still low ad prices, it would be wise for online retailers to take advantage of all that the platform has to offer.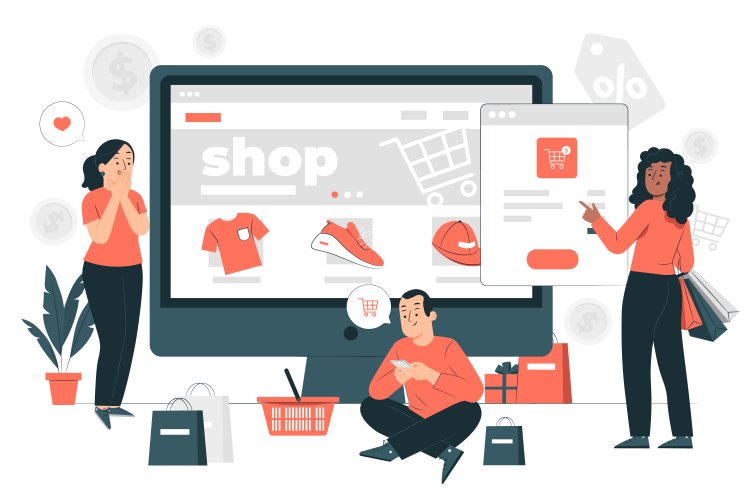 Facebook is one of the most popular social networking services, used by individuals all over the world. Among businesses, it is the best social media site available. The majority of social media platforms are designed for one-on-one interaction, but Facebook helps businesses connect with their customers. The use of Facebook should be made a priority from the very beginning for each new venture. Even brick-and-mortar enterprises whose focus is on the manufacture and sale of physical things have much to gain from establishing an online presence on Facebook, both in terms of increased sales and greater brand recognition. In addition to its social features, Facebook also offers a sophisticated and successful online marketing component, making it a popular platform for advertising a company's products and ideas.
In terms of the enterprise Facebook usage that makes up the corporations posting their advertising on Facebook, this marketing component is now a major item. To reach new clients and increase sales, the Facebook advertisements platform is a great tool. As opposed to Google Adwords, Facebook's advertising platform is both user-friendly and adaptable. Both the pay-per-click (PPC) model popularized by platforms like Google Adwords and the cost-per-impression (CPM) model are viable options (CPI).
Advertisers on Facebook will pay to have their content displayed on the user's profile page or the network's front page. They appear in specific sections of a social network alongside audience- or keyword-specific context. As an alternative to more traditional ad networks like Amazon Product Ads, Google Adsense, Microsoft AdCenter, and Yahoo Search Marketing, Facebook Ads open the door to a whole new demographic. Advertising spaces on Facebook are plentiful. Ads can be shown on a variety of Facebook properties, including apps, groups, pages, images, profiles, and the homepage, according to the company.
The following discussion is limited to Facebook's business model for advertisers and distributors; the model for publishers seeking to profit from advertising created by third parties is not taken into account.
Advantages
You may reach anybody you want with your ad campaigns and promote whatever you like with Facebook's advertising platform, which is one of its main advantages. Every ad click doesn't have to result in the sale of a single item; it can instead be used to advertise the entire event. Promotable services on Facebook include websites, pages, events, and applications.
Using Facebook's ad network also allows you to precisely target your audience, which is a huge plus. Advertisers can select from a number of targeting options. The desired language, region, occupation, age range, level of education, and marital status are just a few of the many options available. More clients could be acquired if advertisements were tailored to the ideal demographic.
Some other benefits of Facebook advertisements include the ability to easily keep track of spending and the flexibility with which ads can be created. Facebook allows you to create many ads from fresh for use in the program, and you can set a daily budget for how much to spend on the ads. The success of your ad will also depend on the approach you choose when making it. In addition to carefully crafting the ad's layout, a striking visual can significantly increase its effectiveness. The headline of your Facebook ad can include your page name, a question, or any other relevant information. Facebook's program is ideal for advertisers because of its simplicity and speed of setup.
Facebook has outlined a five-step procedure to follow in order to achieve advertising success on the network. Included in these procedures are the following:
1. Identify your goals
2. Target the right audience
3. Design an engaging ad
4. Plan and manage your budget
5. Review and improvise
We also can't forget about Facebook's optional CPM and CPC models. Other ad networks only provide CPM or CPC models, however, Google AdWords is an exception.
Finally, it's important to point out that Facebook's ad program is fast expanding at a lower cost than its rivals. According to the Wall Street Journal, in 2011, Facebook's display ad performance was better than Yahoo's.
The Things You Should Watch Out For:
Due to its relative youth in comparison to its competitors, Facebook's advertising platform is fraught with unpredictability. This is essentially an advertising platform that is exclusive to Facebook users rather than the entire internet. Many people who could become clients are probably not heavy Facebook users; they mostly just check their messages sometimes. In addition, Facebook prioritizes business-to-consumer ads. To ensure B2B success, business owners can use Pinterest.
The other ad networks automatically target a global audience, but Facebook limits you to just 25 countries for your ad spend. The potential loss of foreign customers could be a problem for those who sell their goods abroad.
It's true that businesses can use Facebook as an additional advertising platform to reach customers and make sales. It's a social network, yes, but it's also a fantastic venue for entrepreneurs. With Facebook's many features and the still low ad prices, online retailers would be wise to take advantage of all that the platform has to offer.
What's Your Reaction?